Flowscale Metering Unit
Weigh your malt in motion with the Agtronix Flowscale. Flowscales are available in a number of different sizes and configurations, with options to meet the needs of any size production. In order to prevent jams on startup and fully clear out product on shutdown, these machines sequence the starting and stopping of malt handling equipment such as chain conveyor systems, flex augers, and mills.
With options for automation, this unit has become an indispensable tool to brewers and distillers all over the U.S., and saved thousands of dollars in lost revenue to less accurate means of weighing your malt. Flowscales offer inventory tracking and can be paired with a batching system or PLC controls.
Load Cells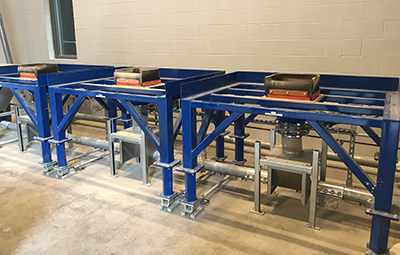 We use load cells for simple weight readings, for stopping conveyors at set points, or for orchestration of sourcing from multiple different containers with a PLC. Available to fit any weight capacity, either through standard compression shear beam load cells, or suspension load cells, weighing by hanging. Suitable for use indoors or outdoors, and hazard rated for any environment.
Automation and Integration
Automation and Integration
Let us simplify the brewing process by automating your malt handling equipment. Our automated control panel connects all the moving pieces of your brewery or distillery into one digital touchscreen. From the dry grain bin to mill to spent grain controls, we can automate the weighing, milling, and batching of your ingredients to your exact specifications. Developing consistency in your brewing process helps maximize extraction efficiencies and reduce labor costs. so investing in high-quality automation is almost always worthwhile.
Full scale automation too much for your needs? No problem, we also make more basic controls, from simple start-stop switches to multi-switch control panels. Get in touch with us below to have a conversation about setting up the right system for you.
Grist Profile Analysis
Sieves and shakers to satisfy the needs of any brewer. Dial in your malt mill and improve your extract efficiency with an on-site grist profile analysis. For a small fee, we'll come out and work with you to help you get the most out of your mill. A portion of the grist profile analysis fee can be used toward the purchase of your own sieve/shaker combo so you can make sure you're getting the best results possible from your system. View the specs on the standard 8-inch Sieve Set that we sell in our online shop.